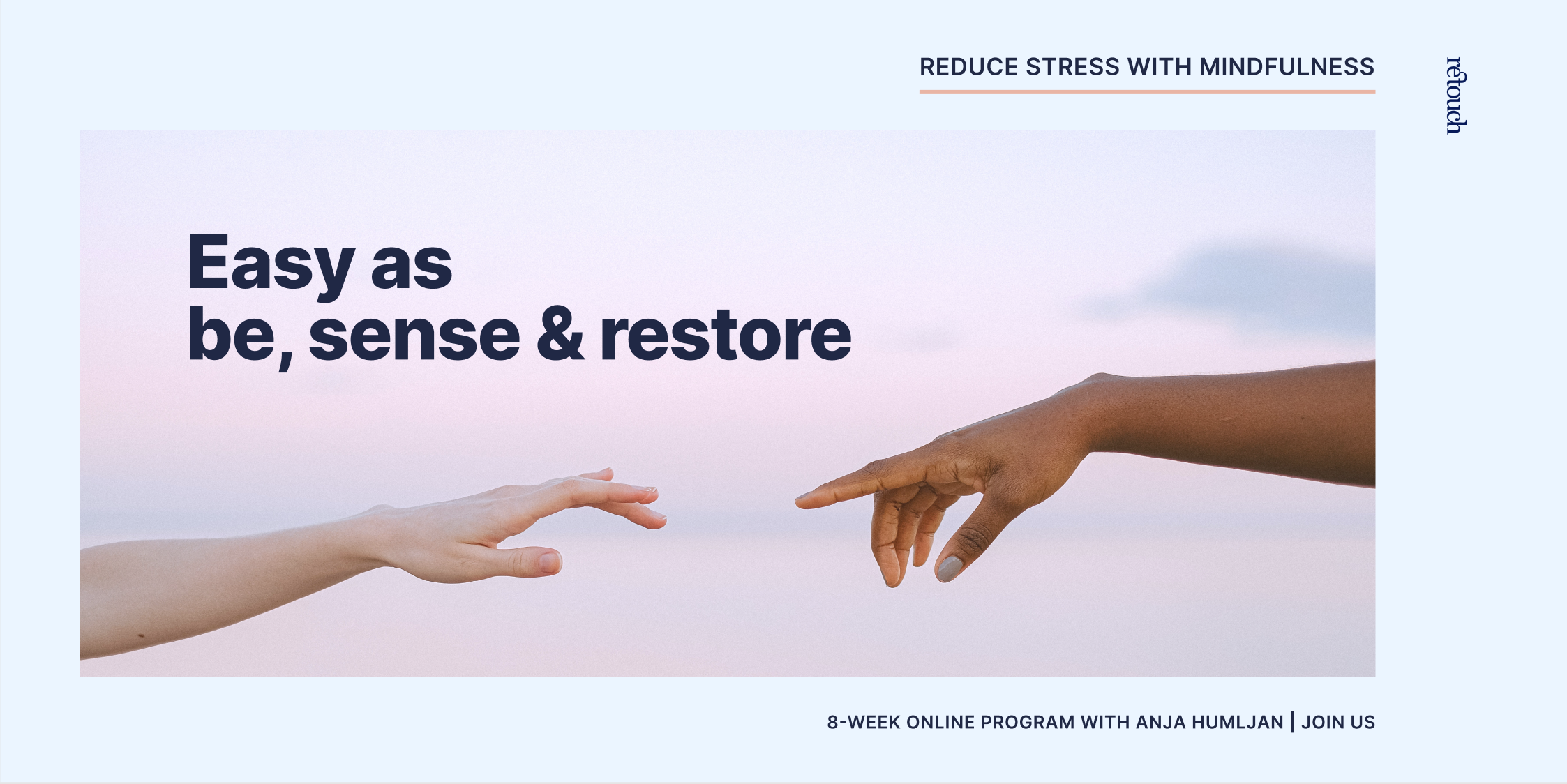 PROGRAM IN ENGLISH
Where? Zoom
What day? Thursdays, 25/11/2021 – 13/01/2022 
What time? 7pm-9pm SGT (12-2pm CET)
*Mindfulness day: Sunday, 09/01/2022 @ 3pm-8pm SGT (8am-1pm CET)
PROGRAM IN SLOVENE
Where? Zoom
What day? Tuesdays, 23/11/2021-11/01/2022 or Wednesdays, 24/11/2021-12/01/2022
What time? 19:00-21:15 (CET, Central European Timezone)
*Mindfulness day: Saturday, 08/01/2022 @ 9am-2pm CET)
*Check your time zone here.
When was the last time you did nothing?
Nothing does not mean chatting or browsing on the phone, ruminating about what happened today and what we plan for tomorrow. We are always doing something or thinking we should be doing something.
Do you know that we have 60,000 thoughts a day?

Half of them are about the past and the future. The past is (no longer) there, the future is (not yet) here. So, we spend 50% of our precious energy on what is not present.
What is here and now?
Notice bodily sensations and thoughts as they are. Observe your breathing in this moment, as it is. Suspend the desire for something to be different and relax with what is.
What do we know about stress?
We all experience stress, it is part of the human experience. It is also the biggest cause of exhaustion, depression and illness. Every euro invested in prevention is the best investment in the long term. (Ministry of Health)
"Discover unhealthy stress patterns and learn how to release tension in a healthy way."
Learn how to:
BE in the present

SENSE what you need

RESTORE resilience to stress
Key benefits:
RECOVERING calm & comfort

 IMPROVING focus & engagement

REDUCING distractions & irritations
What is the fee?
Regular: 290 EUR / 450 SGD
Subsidized: 250 EUR / 390 SGD (Students, retired, unemployed)
Scholarship: 1 person in great financial need will have the full fee covered. (Contact us)

Register by filling out the form below. You will receive an email with an invitation to an introductory one-to-one meeting.
Looking forward to (re)connecting!
~ Anja